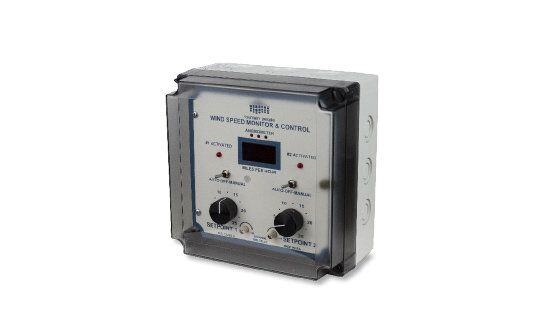 WSM-1D Wind Speed Monitor and Control
WSM-1D Wind Speed Anemometer & Control is for fountain systems in which automatic adjustment to the spray effects spray is desired due to wind conditions. Depending on the type of controls and functionality designed, the spray effect may be reduced in height or the system may completely shut down.
Product Specification
WSM
-1D Wind Speed Monitor & Control; UL Listed adjustable wind speed velocity controller, includes solid state circuits, triple
LED
display, operational pilot lights, manual override switches, two independent output relays, 0-100 second time delay relays (one per set-point) housed in a
NEMA
4 polycarbonate enclosure with "no tool required" removable transparent cover.
Technical Notes
18/3 shielded cable by installer. Maximum dedicated conduit run 200 feet.
Spray effect height control required actuated valve or variable frequency drive (

VFD

). Contact Fountain People for engineering options and recommendations.
Wind controller requires "AN-1D" anemometer.
Locate within 200 feet of anemometer location
Details