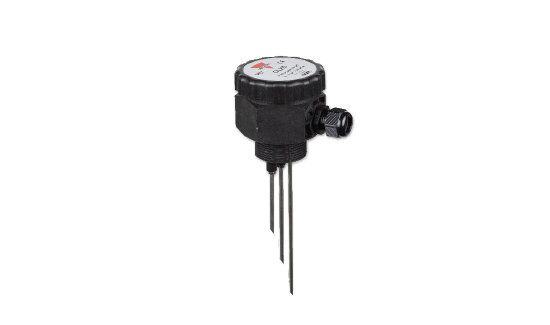 Water Level Probe
WLS-CG Series a compact and flexible level probe for measuring the level of conductive liquids, i.e overfill, dry run protection or pump control. A total measurements system consist of a multiple probe-head 1-5 electrodes and a control unit. The electrode length can be freely defined be means of electrode extension units – with or without isolation suitable for use in storage tanks, equalizer tanks, or reservoirs.
Product Specification
WLS
-CG Series, polypropylene head construction, 3 or 5 probe electrical connections, electrode are stainless steel, pipe thread 1-1/2", cable connection screw terminals.
Technical Notes
Do not cut 1 -1/8 inch cable from conduit body to CLH3 probe. Cable allows for maintenance removal.
Do not glue 3 inch x 1 1/2 inch reducer bushing! Must be removable for servicing. Gently pressfit into place. (+/- 1 inch) is acceptable upon each removal/replacement.
Trim electrodes to length. Tip of electrode is activation point.
Allow sufficient clearance above CLH3 assembly for removal.
Do not allow overflow water level to exceed height of 3 inch coupling.
Details