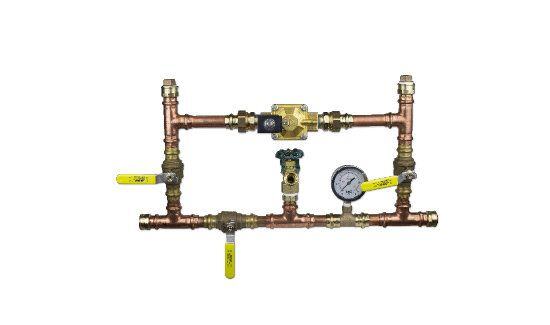 WFS Series Water Fill Station
WFS Series Water Fill Station, fill manifold systems are factory engineered and pre-fabricated. The solenoid valve and manual by-pass assembly allows pool water to be made up either electronically in conjunction with a level sensor control or manually by isolating the solenoid valve and opening the manual fill valve.
Product Specification
WFS
Series Water Fill Station; constructed of copper and brass with 3/4" 120VAC solenoid fill valve, manual bypass and isolation valves, union fittings, hose bibb, plugged female threaded risers on each loop side for water hammer arrestor connection (by Installer), liquid-filled inlet pressure gauge and (F) N.P.T connections. Flow direction is from right to left.
Technical Notes
Water supply to manifold must include a backflow preventer (specified by others) to meet local code requirements: To be provided by installer.
Regulate upstream pressure to a maximum of 50 P.S.I for proper operation. Provide pressure regulator as required (by installer) to maintain pressure range.
Minimum pressure required to operate: 5 P.S.I
Details