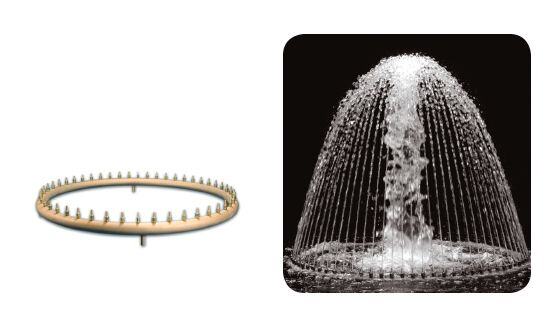 Spray Ring
SPR Series Spray Ring Nozzle, brass or stainless steel construction, utilizes adjustable .187 inch orifice precision jets (quantity of nozzles based on ring diameter), an in-line Y-strainer is recommended to reduce maintenance.
Product Specification
Water Level Dependent – No
Wind Resistance – Fair
Sound Level – Moderate
Clogging Potential – Moderate
Splash Radius – 1.0 – 2.0
Material: Machined brass
Finish: Natural brass
NOTE: Spray Rings supplied with connecting hose and stainless steel hose clamps.
Technical Notes
TYPICAL WATER DEPTH MAY VARY. CONTACT FOUNTAIN PEOPLE FOR SHALLOWER APPLICATIONS.

WATERSTOP FITTING REQUIRED FOR CONCRETE POUR. SIZE BASED ON PIPING AND NOZZLE SIZE (SEE CATALOG ITEM: FWS-SERIES)

THIS NOZZLES IS WATER LEVEL INDEPENDENT.

NOZZLE REQUIRES FINE SCREENING FOR DEBRIS REMOVAL. #40 MESH OR SMALLER.
Details