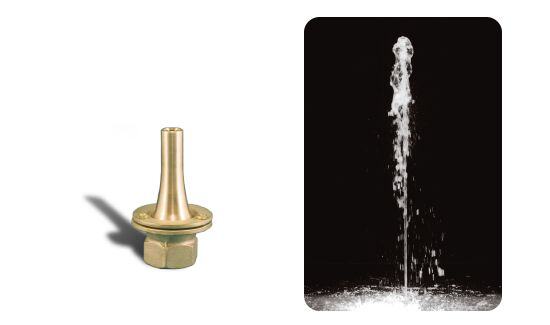 Smooth Bore
SBN Series Smooth Bore Nozzle, machined cast bronze construction with stainless steel fasteners and includes integral angle adjustable swivel up to 15° off vertical. FNPT connection.
Product Specification
Water Level Dependent – No
Wind Resistance – Good
Sound Level – Moderate
Clogging Potential – Low
Splash Radius – 1.0
Material: Machined cast bronze
Finish: Natural bronze
Technical Notes
Ball valve as required per design for discharge flow control.

Waterstop fitting required for concrete pour. Size based on piping and nozzle size. (See catalog item: FWS-SERIES)

Typical water depth shown may vary. Contact Fountain People for shallower applications.

This nozzle is water level independent.
Details