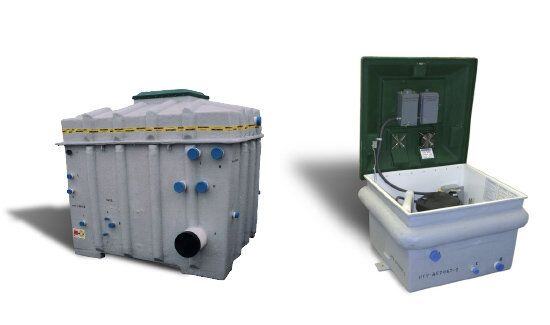 PFV Series Direct Burial Fiberglass Vault Systems
PFV Series Direct Burial Vault System provides a pre-fabricated, underground enclosure for the fountain pumping, filtration and electrical controls. The vault may utilize a landscape, tile set or diamond plate access hatch. Contact Fountain People on vault sizing for required equipment.
Product Specification
PFV
Series In-Ground Vault System, fully pre-assembled (
SCH
80
PVC
) and tested; composed of a heavy duty fiberglass reinforced plastic (
FRP
) vault with white gel-coat interior and light gray gel-coat exterior,
FRP
access cover (green) with stainless steel hinge attachment, locking hardware tab (lock not included), containing a self-priming pump with integrated strainer basket; cartridge filter unit; water fill station assembly (if applicable), check valve(s) or combination flow meter/check valve option, 3" vent connections with ventilation fan; integral sump well and available 2" gravity drain connection; automatic submersible sump pump; U.L. 508 listed control panel, (
NEMA
4) includes: main disconnect switch; pump motor starter with circuit breaker (single phase application), motor starter with adjustable, solid-state motor protector (three phase applications), 24/7 two-channel programmable time clock for pump and (lights if applicable). Note:
GFCI
breakers and water level/low level cutoff control circuitry included if applicable; H.O.A. switches with illumination indication and labeling.
Technical Notes
Tank sizes are nominal. Capacities indicate approximate volume.
Tile set and diamond plate entry hatch options available. Contact Fountain People.