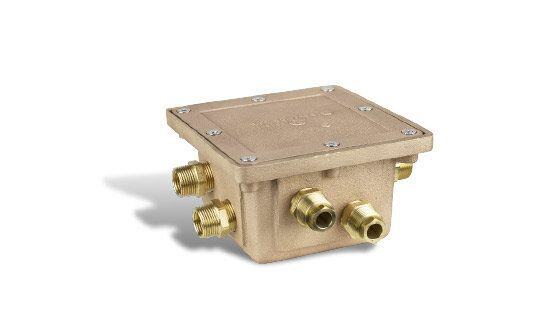 JB8 Underwater Junction Boxes
JB8 Series Underwater Junction Box is an universal junction box for either conduit mount or niche mount applications (up to 8 fixtures). The box is tapped for the maximum number of allowable fixtures and includes the appropriate style/quantity cord seals and plugs depending on the number of connections requested.
Product Specification
JB8 Series Underwater Junction Box; UL Listed underwater junction box consisting of bronze constructed housing and lid, stainless steel fasteners, neoprene gasket, integral ground bar and external "direct burial" rated bonding lug; includes (1) 1" (F)NPT bottom connection and (8) 3/4" (F)NPT side connections. Junction box may be conduit mounted or flush mounted. Universal brass cord seal provides method for either flush mount or freestanding fixture/conduit connections (3/4" or 1/2" NPT connection). The box has a minimum internal volume of 72.0 cubic inches. NOTE: CONDUIT MOUNT VERSION REQUIRES EMBED FITTING.
Technical Notes
Waterstop fitting requires for concrete pour when using junction box for conduit application. 1" F.N.P.T standard. See catalog item FWS-100.

Cord seals included are designed Fountain People FX/FXPRO series lights. Any other fixture style may require different cord seal.

Requires #8882 potting compound per nec standards.