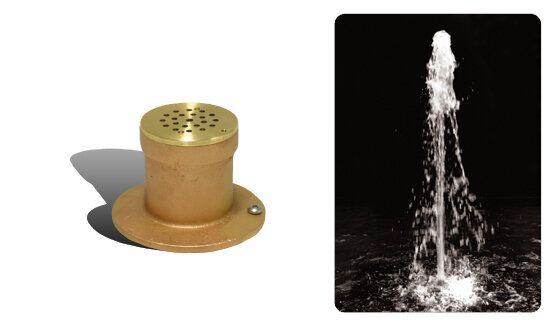 EPF Series Flush Mount Jet Cluster with Waterstop
The EPF Series Flush Jet Cluster creates a medium column of water made up of multiple solid streams from a flush mounted configuration with machined orifices.
Product Specification
EPF Series (Jet Cluster) Flush Mount Nozzle; cast bronze waterstop housing with FNPT bottom connection, and a machined brass threaded insert with machined orifices.
Water Level Dependent – No

Wind Resistance – Good

Sound Level – Moderate

Clogging Potential – Moderate
Splash Radius – 1.0

Material: Machined brass
Finish: Natural brass
Technical Notes
NOZZLE REQUIRES FINE SCREENING FOR DEBRIS REMOVAL. #40 MINIMUM MESH OR SMALLER.




THESE NOZZLES ARE WATER LEVEL INDEPENDENT.
Details