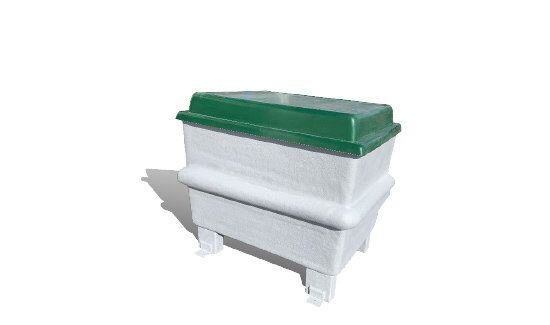 DBVB Series Engineered Direct Burial Vault System
DBVB Series Direct Burial Vault System provides a pre-fabricated, underground enclosure for the fountain pumping, filtration and electrical controls. The vault may utilize a landscape, tile set or diamond plate access hatch.
Product Specification
DBVB
Series In-Ground Vault System, fully pre-assembled (
SCH
80
PVC
) and tested; composed of a 5'-4" L x 4'-10" W x 4'-9" D heavy duty fiberglass reinforced plastic (
FRP
) vault with white gel-coat interior and light gray gel-coat exterior,
FRP
access cover (green) with stainless steel hinge attachment, locking hardware tab (lock not included), containing a self-priming filter pump with integrated strainer basket; cartridge filter unit display pump; water fill station assembly (if applicable), check valve(s) or combination flow meter/check valve option, 6" vent connections with ventilation fan; integral sump well and available 2" gravity drain connection; automatic submersible sump pump; U.L. 508 listed control panel, (
NEMA
4) includes: main disconnect switch; pump motor starter with circuit breaker (single phase application), motor starter with adjustable, solid-state motor protector (three phase applications), 24/7 two-channel programmable time clock for pump and (lights if applicable). Note:
GFCI
breakers and water level/low level cutoff control circuitry included if applicable; H.O.A. switches with illumination indication and labeling.
Technical Notes
Vault must be installed at, or below the operating water level of the lowest pool basin.
Surrounding grade must slope away from the vault and hatch entry.
Vault drain connections are typically connected to sanitary sewer. Verify local requirements.
Vault must be bonded utilizing a #8

AWG

solid copper wire.
Vault designed for "dry" installation. Consult civil for ground water conditions.
1/2 inch – 13×4 inch, stud anchor; 1/2 inch x 1-1/4 inch OD flat washer; 1/2 inch hex nut; 1/2 inch split lock washer (qty. 4 each, 18-8 or 316 stainless steel).
**hex nut and lock washer may be substituted for stainless steel hex nut with nylon locking insert.