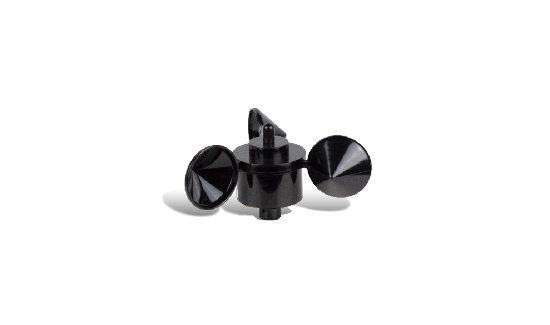 AN-1D Wind Anemometer
AN-1D Wind Anemometer is for fountain systems in which automatic adjustment to the spray effects spray is desired due to wind conditions. Depending on the type of controls and functionality designed, the spray effect may be reduced in height or the system may completely shut down.
Product Specification
AN-1D Wind Speed Sensor, polycarbonate constructed 3-cup anemometer with UV inhibitors, beryllium copper shaft and Teflon bearings. Requires 18/3 shielded cable by installer.
Technical Notes
18/3 shielded cable by installer. Maximum dedicated conduit run 200 feet.
Spray effect height control requires actuated valve or variable frequency drive (

VFD

). Contact Fountain People for engineering options and recommendations.
Do not mount to side of roof, building, against side of wall, or fence.
Do not run wind control wiring with any other conductors in the same conduit.
Create stand-off and side-mount to available lightning pole, as required or, top-mount to pole at approximate maximum height of water display.
Install anemometer within 200 feet of wind control panel in an open area that will experience the same wind currents as the water feature.
Anemometer requires "

WSM

-1D" wind controller.
Designed to be positioned in close proximity to the fountain with direct wind access.
Details